FSI – fiNANCIAL STRATEGIC INSIGHTS
CLIENT: FSI – Financial Strategic Insights

SINCE: 2016 – today

BRIEF: FSI provide the financial reports and insight that helps their clients to better understand how their business is performing. The goal is to empower their clients to develop financial strategies that will enable them to appraise investment opportunities and grow their business profitably. This message is a difficult one to communicate easily to clients and our brief was to create a brand around the business owner, Peter Foster, and make him appear more approachable and easy to communicate with.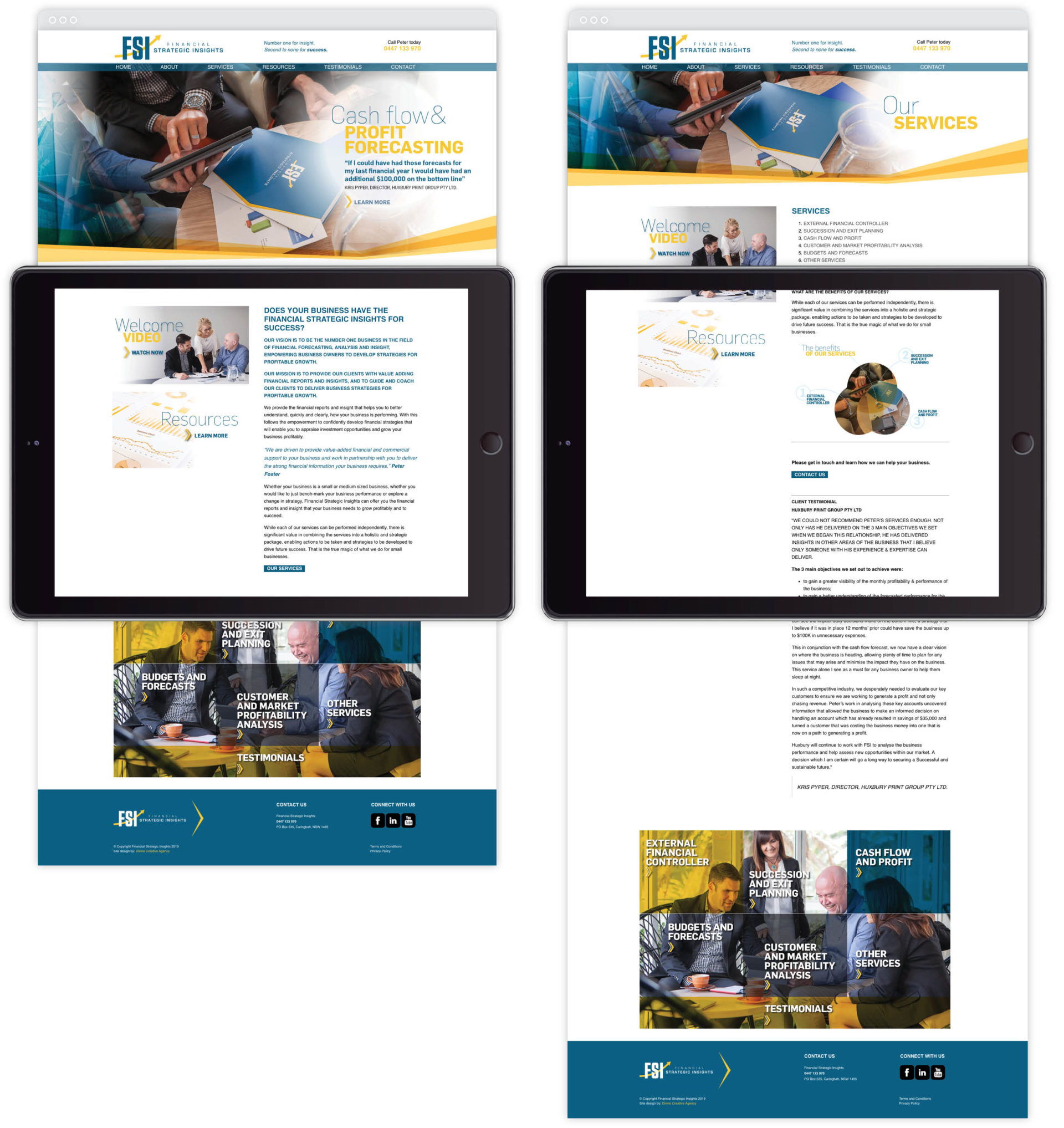 WEBSITE DESIGN

INFOGRAPHICS DESIGN

CASE STUDY DESIGN

POWERPOINT DESIGN

PROFESSIONAL PHOTOGRAPHY
CORPORATE VIDEO
Our services included:
•  work with the existing brand and develop a friendlier, more approachable message to small and medium sized business owners. We provided a full suite of marketing items including website, corporate video, professional photography and printed materials to assist the sales process.
• design a website, blog and provide organic search engine optimisation to assist google rankings. By using the professional photography and video, the client is portrayed in more favourable and personal way to communicate a very serious message.
• design and layout of case study sheets and infographics, to communicate complex messages in a non-intimidating way.
• design of sales material to leave with clients including a DL brochure and Power Point template for presentations, and pull up banner.
• art direction and scripting for professional corporate video and photography.
OUTCOMES:
The client is extremely happy with their sales material, in particular the attention given to portraying the client as being personable and a good communicator. A common issue with the finance industry is that business owners do not relate to the service providers, and the client felt that we cut through that barrier and assisted him greatly with winning new business.