CONNECTION MARKETING


WANNA BE THE ROCKSTAR OF YOUR INDUSTRY?
PRETTY MUCH EVERY BUSINESS OWNER I'VE EVER MET (APART FROM A FEW SHY ONES) WANT TO BE THE NUMBER 1 CHOICE IN THEIR INDUSTRY…
But what you really want to aim for, for yourself and the people in your sales team, are to be industry Rockstars that your audience will know, love and trust.
When you consider that 95% of sales decisions are based on pure emotion, it's integral to your business to build up a connection with your audience if you want to remain relevant in today's current market.
SO WHY BE A ROCKSTAR?
Because rockstars are the masters of connection with their audience.
They evoke real emotions instantly.
They take their audiences on a journey to places they never thought they could go.
They inspire, they get their audiences to feel. They are exciting and engaging.
Their fans are loyal and will defend you to the hilt. They tell all their friends about you and love to see you succeed.
Rockstars bring out raw passion in their audience because they connect on such a personal level.
There is no reason why you and your people can't do all that and more to be the Rockstar in your industry.
It doesn't matter what industry you are in or who your clients are in, be brave, stand for something, and let you're audience know who you are and what makes you different.
The bottom line is that people trust people, not brands. They have real relationships with the people in your company, and that becomes part of your overall company brand. In the words of Richard Branson, "take care of your employees and they'll take care of your business".
On average, your sales team will have 10 times more engaged followers on their social media accounts than your company's social media account.
Content shared by employees receives 8 times more engagement than content shared by the company. And leads developed through a salesperson's social media activities converts 7 times more frequently than sales people with no social media.
What we are aiming for is engagement when we are marketing. Because engagement = connection. Your audience wants to be heard and spoken to by real people. 10 years ago, before social media, when we spoke about marketing and branding it was all about the company message. Now, personal branding is seen as essential for individuals and businesses and works in conjunction with a company message.
As business owners and marketing managers, we should empower our sales teams and business development people to build their personal brands with the right messaging to assist the companies they work for and drive loyalty and sales.
When you get personal in your marketing, you trigger an emotional response which creates brand loyalty and the greater likelihood that a customer will buy from you. 71% of buyers who see personal value (vs business value) will purchase a product. And even better, 68% of buyers who see a personal value will pay a higher price for a service. So if you are conducting business to business transactions, you need to find a way to connect with your audience in a heart-felt and personal way.
We see business owners speak so much about their products and services, they forget that they aren't just selling the nuts and bolts, they are selling dreams and aspirations, and the solutions to their customer's very real issues and pain. Features and benefits alone won't get them across the line in sales. Tugging at your client's heart strings, connecting on an emotional level, solving their problems and appealing to their deepest most personal issues will close the deal.
The more emotionally connected a customer is to your brand, they are 90% more likely to purchase from you regularly. They 60% more likely to spend more dollars, and 5 x more likely to continually keep buying from you in the future.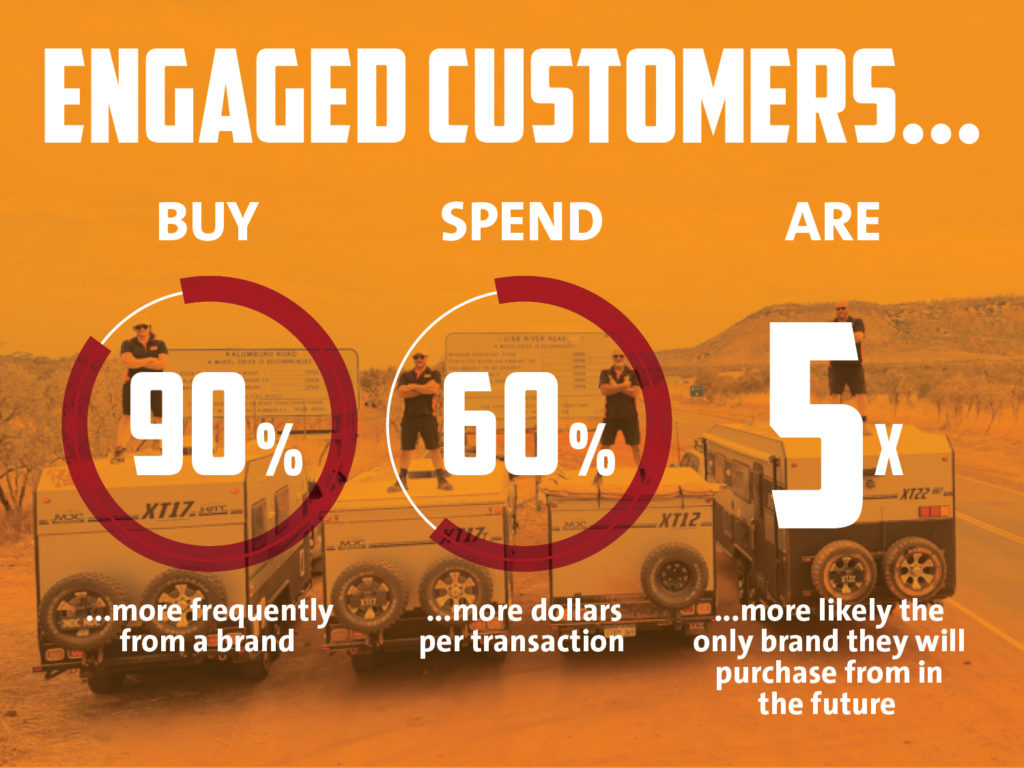 Now that is brand loyalty! And why creating an emotional connection with your audience is so important.
Connection and relationship marketing are all about creating personal, human ties between your brand and your customer, it requires give and take, and an ongoing conversation with each other. It's all about the customer and servicing their needs. Not selling, but more so understanding their problems and showing them the solution.
"Our job is to connect to people, to interact with then in a way that leaves them better than we found them, more able to get where they'd like to go."
Seth Godin, The Godfather of Modern Marketing!
HOW DO YOU CONNECT WITH YOUR AUDIENCE?
Learn their language

, speak like them, know what their pain points are and speak to them.

Become more heartfelt in your marketing

, truly know what keeps them awake at night and provide solutions to their problems.

Become an awesome story teller

, share all of your success stories.

Be as real as possible.

Get your people involved

, guide them to develop their own personal brand and utilise it with your company brand.

As the business owner, get more involved in your industry

and become a spokesperson for it.

Be seen, don't hold back.

Get connected on social media channels, make video content, vlog, blog, publish articles, present on stage and on webinars, create a podcast, write a book or at least co-author with a chapter. Show people who you are and share your expertise.

Dare to stand out and be brave with your content.

Be the Rockstar in your industry.

Take your audience where they've never been before, no matter what you sell.

Connect. Person to person.
Triple your communication right now to your audience with meaningful content.
Do this through providing wonderful content that builds relationships and really gets to the heart of what your customers are thinking and feeling. Creating solid business relationships is integral as all relationships are built on trust. And trust drives revenue.
Not everyone will get the message, don't even try to win over everyone. Know who your A Client is and speak directly to them in their language. Build trust with quality content that really resonates with them, and watch your business explode.
Empower yourself and your people to be the real Rockstars in your industry!
Want to talk to Melissa to find out more about how we can build a great connection marketing strategy and personal brand action plan for you and/or your sales team? All you need to do is get in touch and we can do the rest.