WHAT OUR CLIENTS SAY

ABOUT THEIR BRANDS NOW AND CONNECTING DEEPER WITH THEIR AUDIENCES

SUCCESSFUL BRANDING AND MARKETING ALL STARTS WITH A GOOD RELATIONSHIP BETWEEN OUR CLIENTS AND US. WE LISTEN AND PARTNER TOGETHER TO GET THE VERY BEST RESULTS.

We are so proud of the great relationships that we have with our clients. We don't get caught up in the 'rules' of business where they say "don't take business personal", and "never make friends with your clients"!

Business is incredibly personal, we put our heart and soul into what we do. And invariably, most of our clients do become our friends because we can't help but become invested in these relationships when we all work so hard together for the good of our client's brands and businesses. Please read through what some of our clients say about working with us.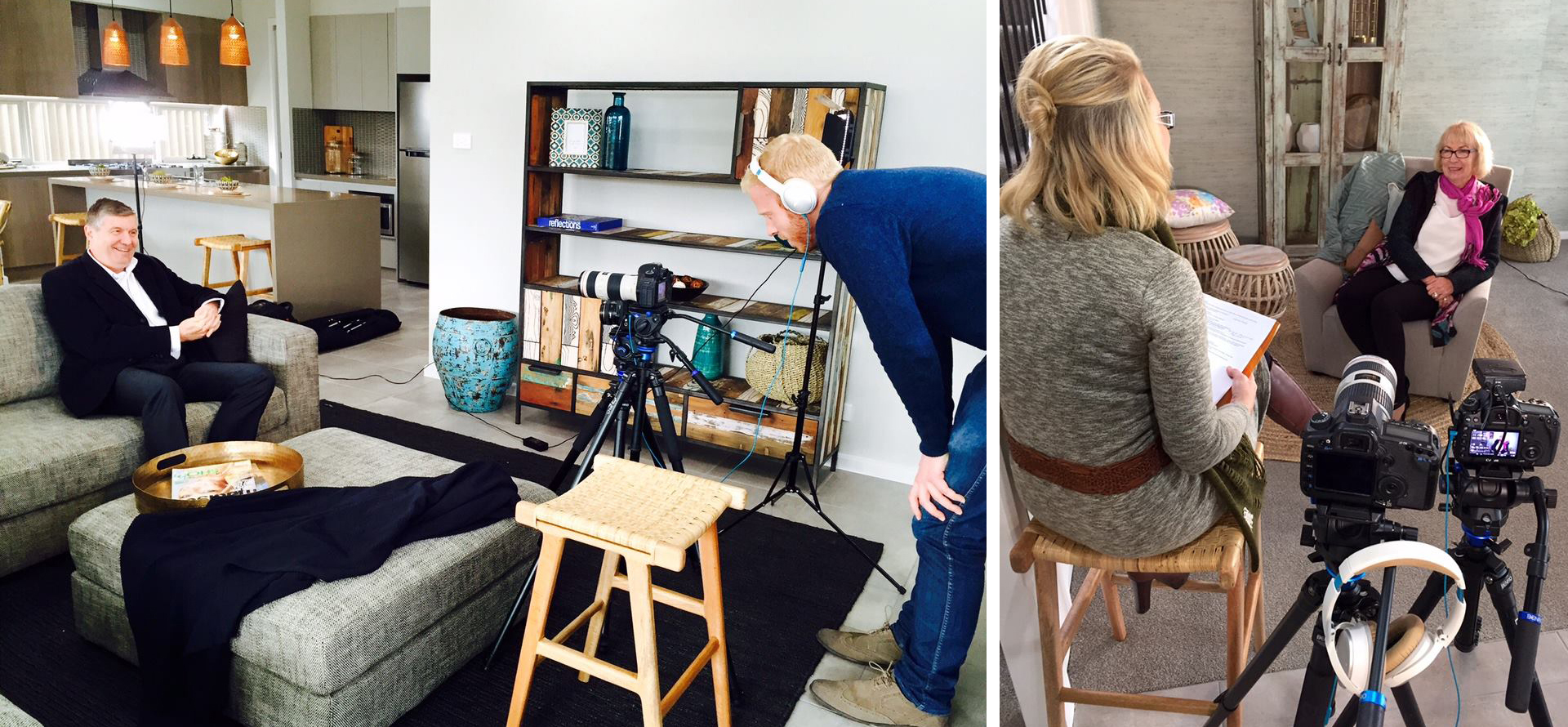 "Since working with Divine Creative Agency, our brand identity, sales material, signage, advertising and online marketing are now all congruent with each other. We now look, act and perform like a building company that is a leader in our industry, and it's no surprise that business is at an all time high."
Graham Matherson
Jandson Homes
---
"Before I started working with Divine Creative Agency, I wasn't absolutely convinced about the the whole concept of branding! But now that our advertising, social media, sales material and online marketing campaigns are far more consistent, strategic, and speaking directly to our target market.
MDC Campers is correctly positioned in the marketplace as the largest and most successful manufacturers of camper trailers. We now walk and talk our brand…
Melissa, Steve (the Big Fella) & Team, we couldn't have done it without you, thank you."

Vaughan Hindley
MDC Camper Trailers
---
"Our initial conversation was about rebranding Catering HQ. I shared my vision with Melissa, and she nailed it. She understood what I wanted and the finished product (website, professional photography, videography and personal image rebrand) is amazing. It has now given me so much more confidence in my own business and getting a massive response from social media and my clients, which has been fantastic for business."
Steve Sidd
Catering HQ
---
"Working with Melissa Robson and Divine Creative Agency on the re-designing of our business website has been an absolute pleasure. Melissa provided personal attention, care and commitment to ensure that our website truly represented our business in the best possible way.
Melissa made sure the end product was perfect and reflected exactly what we had in mind. She also provided sound advice on making our website a personal experience for our customers. We would not hesitate to recommend Melissa and her team and look forward to working with her in the future on more marketing strategies for our business."
Monique Meagher
Clinton Built
---
"Melissa's vision is clear and her attention to detail is second to none. Blending creative ideas with her is seamless and extremely enjoyable particularly when the end result makes a client stand out from the rest."
James Lopes
Arc Shot Media
---
"Since first contacting Divine Creative, Melissa's attention to detail and interest gave a reassuring feeling that we were in the right place. Divine Creative have been wonderful to work with and Forward Travel have definitely made the right decision working with Melissa and her team."
David Smyth
Forward Travel
---
"Melissa is the best I know in the country in terms of design, branding and web and she also does amazing video with her partner James. They have a medium sized agency so would be great to still give you the personal touch and all of the awesome efficiency that comes with that."
Tina Tower
Her Empire, Laptop Life, Scale Up Your Business
former Telstra Young Business Woman
---
"Thank you for passing me onto Melissa. With this work her business will be recommend by every corporate professional I deal with. Love it… They are the best I have seen and I am not being biased. I am your network group, you are going to get some good clients as I will promote you to everyone I am involved with."
John Patterson
LGen
---
"My business has been working with Melissa for twenty years now. We've got a very strong relationship. We do a lot of strategy and development of plans for businesses, and we very much rely on Divine Creative for the implementation… for taking care of their branding, their online presence and to support what our business does for our clients, and the clients business."
Brett Power
Power Marketing and Business Solutions
---
"Everything looks fantastic and is already showing results, we just received a phone call from someone who found us via the website. Thank you so much for all your hard work."
Justine Whitfield
Designed with Stainless
---
"I wanted to say a huge thank you for the practical tips you gave me at the seminar recently. One of the tasks you gave us all was to write down your target market's pain points. It made me really think differently to how I package my workshops and I have seen great results! Changing the Etelage story to my story and having my personal brand more prominent has also been a really effective way to build my brand. Thanks for these really cost and time effective tips to help plan a strong marketing strategy and create a brand buzz."
Christine Smalley
Etelage
---
"I have recommended Divine Creative Design to many clients and used their services for my own business. Their work is always first class and very good value. So don't wait to meet me and be referred to Divine Creative… refer yourself now."
Brod Ivory
Altitude Business
---
"We've loved working with Divine Creative. The website has really streamlined our processes and made our work flow a lot more efficient. It's all about working smarter so we can give more time to our customers and less to the paper trail!"
Rachel Jones
Kookaburra Air Conditioning
---
"I know its going to be a good day when I leave the house to go to a job for Divine Creative. Melissa's dedication to her clients is second to none which results in a concise and comprehensive brief for me so I can achieve imagery that exceeds Melissa's and her client's expectations. Melissa is a true collaborator who works amazingly with the team she expertly assembles so that her client feels 100% looked after and informed every step of the way. Any branding adventure is an experience for a client, but with Melissa's many years of marketing experience, industry connections and inspired guidance, that journey is a vision of efficiency, creativity and most importantly…results for her client!"
Samantha Halpern
JettyBlue Photography
---
"Thank you Melissa and the team at Divine for creating our Introductory Video. You put everyone at ease and kept to our brief. The end result is awesome and timeless. Love your collaborative approach and style!"
Jennifer Palmer
Sullivan Dewing
---
"Well, back in Brisbane from an awesome trip of brainstorming and marketing plans made for my three businesses. If you're in business, you MUST have a marketing plan to tell people about what you do! Melissa Robson, owner of Divine Creative Agency is one of the best in the business and nothing can be truer than the saying "you get what you pay for".
Anything you do in business, spend the money on quality and get things done properly. Don't be a tight arse and a scrounge, otherwise nothing will change and you sit exactly where you are now. I can't recommend Melissa's services highly enough through custom website design blended with functionality to marketing planning, brochure design etc. Thanks for the thumping headache over the last two days Mel! It's been a good headache!!! So much info and awesome tools to move forward with!"
Dave Challinor
Fortified Finance, Leisure Sales & InterRe Finance
---
"Divine Creative Design has created three websites for me and multiple pieces of marketing collateral for several businesses across a diverse range of industries including natural therapies, consulting and financial services. They are very easy to work with, pick up the concepts quickly and delivers a pitch perfect job. The team, headed by Melissa, is creative and inventive and at the same time commercial and pragmatic. I would and do recommend Divine to absolutely anyone."
Sharon Lenon
Business Consultant
---
"I can't thank you enough for everything you have created for me and for how much you have added to my professionalism and enthusiasm!! Quite frankly, you and your team work wonders and I am truly very grateful. Thank you so very much."
Gary Cowan
Custom Control Solutions
---
"The Divine team created a fantastic concept – a bit bold, plenty of colour and photos – very different to our competitors. They listened to us, challenged our thinking and used their expertise to create a great brand and look for us. The feedback from our clients has been very positive. Our business has grown to a whole new level and it all started with Divine."
Mark Pinhorn
HYD Accounting – formerly Harvest Accounting
---